With hockey in full swing, let's take a look at the greatest duos the fastest sport on Earth has ever produced.
The temperatures dropping and the Winter season is quickly approaching. This can only mean the hockey season is really starting to heat up.  With that, let's take a look at the five greatest duos to ever lace up a pair of skates.
5.  Mark Messier and Wayne Gretzky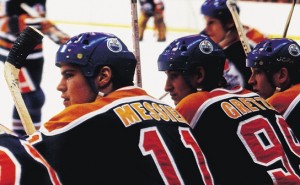 photo: c/o The Windsor Star
It was a close call, but our first duo just beat out Mario Lemieux and Jaromir Jagr.  The difference?  Lemieux and Jagr won two Stanley Cups.  Gretzky and Messier won four Cups in a five year span.  With Gretzky setting scoring records and Messier bringing a "win at all costs" attitude, the Oilers of the 1980s seemed unstoppable.  Unfortunately these two Hall of Famers were broken up when Gretzky was traded to Los Angeles in 1988, but the two were briefly reunited in 1996 when both were members of the New York Rangers.
4. Patrick Kane and Jonathan Toews

photo: AP
Easily the youngest duo to make our list.  Both have already won two Stanley Cups together, and both are only 26-years of age.  Toews took home the Conn Smythe Trophy in 2010 while Kane won the Calder Trophy for Rookie of the Year in 2007.  This duo will be intact for years to come not just because of their age, but because both signed identical 8-year/$84 million deals this past summer.
3.  Brett Hull and Adam Oates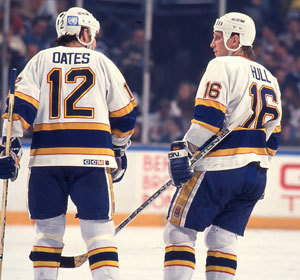 photo: c/o St. Louis Blues
This duo is often forgotten because they didn't bring a championship to St. Louis and it ended abruptly after two and a half seasons.  With Oates dishing passes to Hull left and right, Hull flourished scoring 72, 86 and 70 goals in their near three seasons together.  A contract dispute saw Oates traded to the Bruins in 1992, ending the duos quick run.  But what these two could have accomplished together is a question all hockey fans will always wonder.
2.  Phil Esposito and Bobby Orr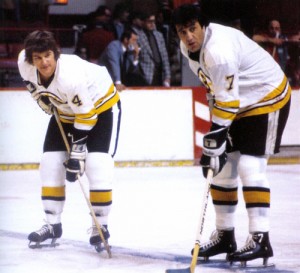 photo: c/o BobbyOrr.net
These two would make just about any "Greatest Of" list.  In eight seasons together, Esposito and Orr helped the Bruins to two Stanley Cup titles in 1970 and 1972.  The two boys of Boston were well recognized as Esposito won two Hart trophies and five scoring titles while Orr won the Norris Trophy 8 times, which is a record that still stands today.
1.  Ted Lindsay and Gordie Howe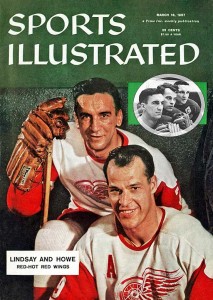 photo: c/o Richard Meek/SI
This one comes as a shock to absolutely nobody.  This duo spent eleven years together in Detroit, winning Stanley Cups in 1950, 1952, 1954 and 1955.  Howe, or better known as "Mr. Hockey" at this point, won six scoring titles and six Hart trophies during his time with Lindsay.  Lindsay, of course, now has the NHLPA's MVP Trophy named after him.
All of these duos made hockey history, but there is plenty of history being made today.  Evgeni Malkin and Sidney Crosby, Daniel and Henrik Sedin, and Henrik Zetterberg and Pavel Datsyuk are all duos causing are jaws to drop today.  Make sure you're in the house the next time history is made.  Head over to StubHub for the best deals throughout the hockey season and catch your favorite team in action today!